Flavours
Flavours
When you order a special cake, the flavours are as important as the decoration. We always carefully combine the various kinds of cakes, fillings and coverings to ensure a balanced and delicious taste.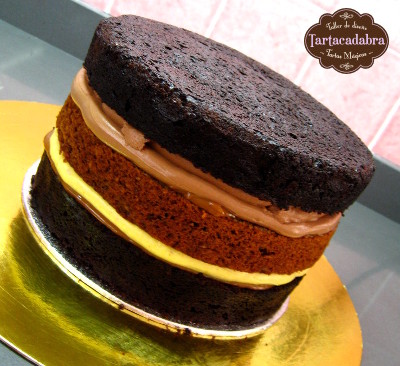 Cakes:
We use Genovese sponge cake, with flavours varying between vanilla, chocolate, lemon and mocha. We can also use butter cake if preferred.
Fillings:
We fill our cakes with Swiss Meringue Buttercream: a very light and silky buttercream that comes in different flavours: vanilla, almond, chocolate, choco-hazelnut, coconut, cherry, lemon, mango, peach, raspberry, rum, strawberry... We can add dark or white chocolate chips, mandarine in syrup, cookies...
We also add a layer of mermelade (strawberry, apricot or raspberry), lemon curd or dulce de leche  in our cakes.
Note: fillings with whipped cream or milk cannot be used in decorated cakes.
Some delicious combinations:
Nutella: vanilla sponge cake with choco-hazelnut buttercream and strawberry jam
Banana Split: vanilla sponge cake with banana buttercream and dark chocolate chips, and a thin layer of dulce de leche
Fresh Strawberry: vanilla or chocolate sponge cake with strawberry buttercream, white chocolate chips and strawberry jam
Choco-Raspberry: chocolate sponge cake with raspberry buttercream, dark chocolate chips and raspberry jam
Clementine: vanilla or lemon sponge cake with vanilla buttercream, lemon curd, and mandarine in syrup
Chocolover: chocolate sponge cake with chocolate buttercream and dulce de leche
Black and White: chocolate sponge cake with vanilla buttercream and dark chocolate chips, with jam
Mocha: chocolate or mocha sponge cake with mocha buttercream, dark (or white) chocolate chips and dulce de leche